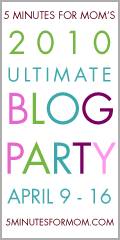 Hi to all the partygoers blog hopping their way around! Welcome to Cars, Trucks and Teething Rings. I'm Sarah, mommy of 2 little boys, ages 5 months and 3 years. I have a hubby, but he hates being mentioned most of the time ;) He doesn't appear very often on my blog unless I sneak a picture or two! We're going to be celebrating our 5th wedding anniversary in May, the time has gone by so fast! I'm a relatively new blogger, this blog has only been around since the beginning of February.
A few random tidbits about me!
I'm a little crunchy around the edges, I hate chemicals and love cloth diapers, mama cloth & other similar goodies. I'm in love with my steam mop, hubby recently surprised me with it and totally made my year.
I can't seem to lose the baby belly this time around..my weight is down to normal, but I still look preggo in some clothes, blech!
I was scared to death to have 2 kids, thought I'd be cheating the first one (out of what, I don't know), but I've been pleasantly surprised at how life works out and I adore them both more than life itself.
I love to cook, but it seems like hubby does most of the cooking these days.
Hubby is STILL JOBLESS and it's driving me insane.
I'm a transcriptionist, medical and general, sometimes a bit of legal when I get the opportunity.
I"m a shopaholic and it just doesn't work well with only one income..I've curbed it down to almost nil, but there are days I spend more than I should.
I love grocery shopping..probably because I love food.
And you?
Please introduce yourself in a comment or direct my to your party page, I'd love to "meet" you!
C'mon!
All my friends and followers, feel free to join in! Head over to
5minutesformom.com
and link up!
I'd love to win!
US39 -Be My Guest certificate
US101 – One lucky winner will get this $450 Human Touch Foot and Calf Massager
US2 - $50 gift certificate to Happy Panda
US7 – Tupperware Prize Pack
USC 3 – A $50.00 Target Gift Card.
USC 15 – $50 Target gift card
USC 8 – $55 E-Gift Card for Amazon.com
US112 – $50 Amazon Gift card
US37 – $20 Visa Gift Card
US46 – Scentsy plug in warmer and 3 scents
US68 – Scents of your choice! Choose your very own Full-Size Authentic Scentsy Warmer and 3 wax scents!
US71 – A $50 Bear Bucks Card to Build A Bear Workshop.
US35 – Hobo International Clutch Bag worth $100
US32 – $25 Target Gift Card!
US113 – $25 Walmart Gift Certificate
US114 – $25 Walmart Gift Certificate
US61 – Win a $25 e-gift certificate to Toys-R-Us
US74 – $30 Amazon gift cards
US74 – $30 Amazon gift cards
US87 – $30 Amazon gift card
US88 – $25 E-Gift card to Amazon.com
US52 – A $25 GC to Amazon.com
US55 – A $20 GC to Amazon.com.
US31 – A $20 Amazon gift certificate
US10 – Young Living Essential Oils Stress Away Roll-On
US21 – A copy of Danielle Steele's novel Big Girl
US48 – New Momma Prize Package from the Pampered Chef
US72 – Your Shape for Nintendo Wii
Or just about anything on the list! I've run out of time to check through at the moment ;)